Chairs by Arne hovmand olsen
Chairs by Ejvind A. Johansson
Chairs by Foersom & Hjort-Lorenzen
The beautiful and organic chair CH33 was designed by Hans J. Wegner in 1957 and produced by Carl Hansen & Son. The chair was manufactured for 10 years and then took a long break of 45 years before it came back into production in 2012. CH33 has a strong backrest of molded veneer with visible plugs.

PP250 (Valet chair or The rest of the jacket) is a beautiful, sculptural, fun and functional chair. The chair is perfect to have standing in the bedroom for the clothes before bedtime. The back is shaped like a jacket hanger and under the seat there is a storage box for, for example, the watch, purse or keys. First the chair was four-legged but Wegner thought it looked too heavy and removed a leg which gave a lighter expression. Valet chair is available in the materials oak, pine, teak, wenge, oregon pine and mahogany.
Hans J. Wegner's PP502 office chair was designed in 1955 and is a combination of the hard steel and the soft natural materials wood and leather. PP502 is a continuation of The Round Chair. The backrest is made of solid wood and has been twisted like a propeller. It is the ultimate in office chairs and the price starts at 84,000 DKK.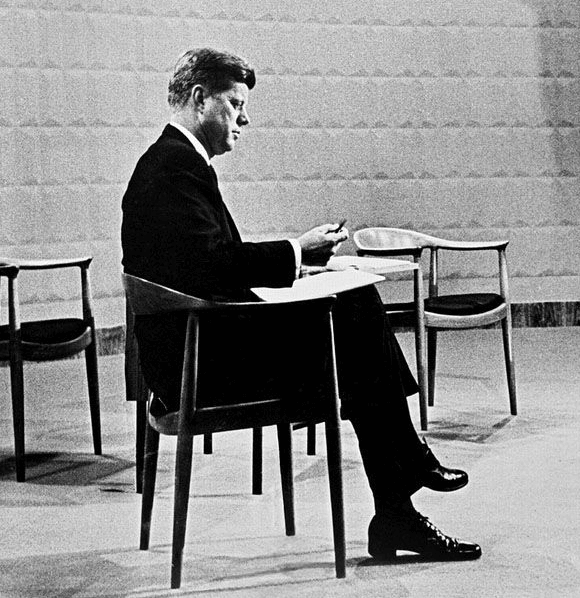 "The Chair" or "The Round Chair" is one of Hans J. Wegner's absolute masterpieces. The Chair PP503 was designed in 1949 and was published shortly after in the American design and architecture magazine Interiors. This was the international breakthrough of Danish design and the Danish furniture and lamps came on the world map. The Chair was shown on television worldwide in 1960 when John F. Kennedy and Richard Nixon met in the world's first televised election debate. Later, Barack Obama also wanted to sit in this particular model when he was to be interviewed at the Bella Center during the climate summit.
In 1961, Hans J. Wegner designed the Tyrestolen model 518 for Johannes Hansen Møbelsnedkeri. It got its name due to the strong armrest that goes out like a bull horn. The bull chair is today produced by PP Møbler and has over the years been produced in oak, ash, teak and mahogany.
The beautiful and minimalist chair PP701 was designed by Hans J. Wegner in 1965. The chair is a combination of stainless steel, wood and an upholstered seat. Today it is produced by PP Møbler and is available in the materials ash, oak and walnut.
Chairs by hvidt & Mølgaard
Chairs by Kai Kristiansen
Chairs by Niels Otto Møller
Chairs by Poul Henningsen