danish design - ceiling lamps
Septima by poul henningsen
Septima is designed by Poul Henningsen and was first exhibited in 1928 at the Danish Art Industry Museum (today called Design Museum Denmark). Septima is one of Poul Henningsen's most refined pendulums and consists of seven screens. The screens are made of clear glass with matte panels. It provides a great light and can be used over the dining table, in the bedroom or in the reading corner.
artichoke by poul henningsen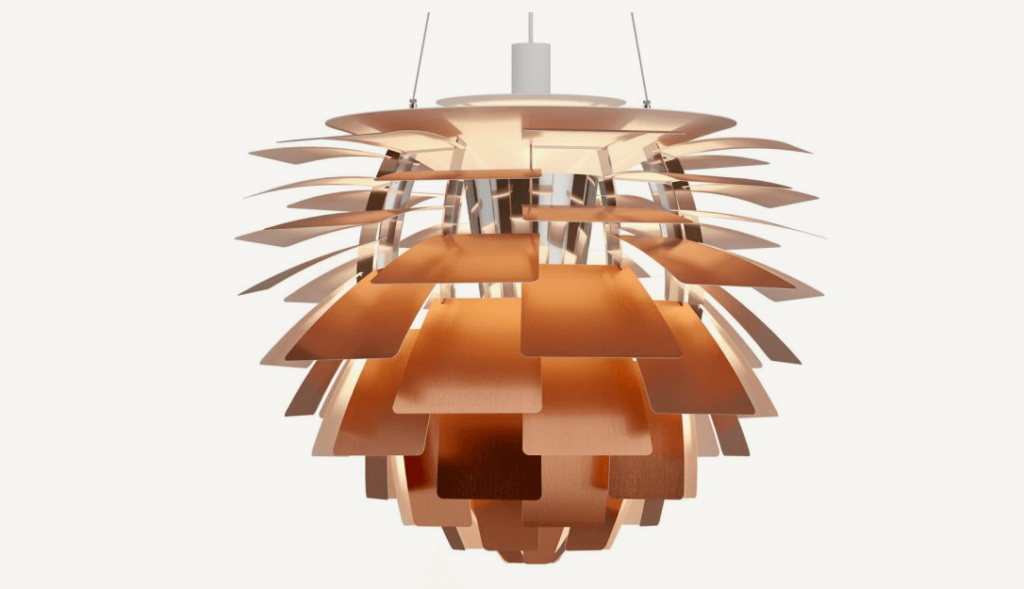 PH Artichoke was designed in 1958 by Poul Henningsen to the Langelinie Pavillion restaurant in Copenhagen, where it still hangs. PH Artichoke is characterized by its unique and sculptural design, is world-renowned and is considered an international design icon. The luminaire consists of 72 leaves divided into 12 rows, and their mutual placement gives a total blink-free light regardless of viewing angle. In order to ensure the high quality level, large parts of the production process still take place as manual work.
ph 2/1(Stammekrone) by poul henningsen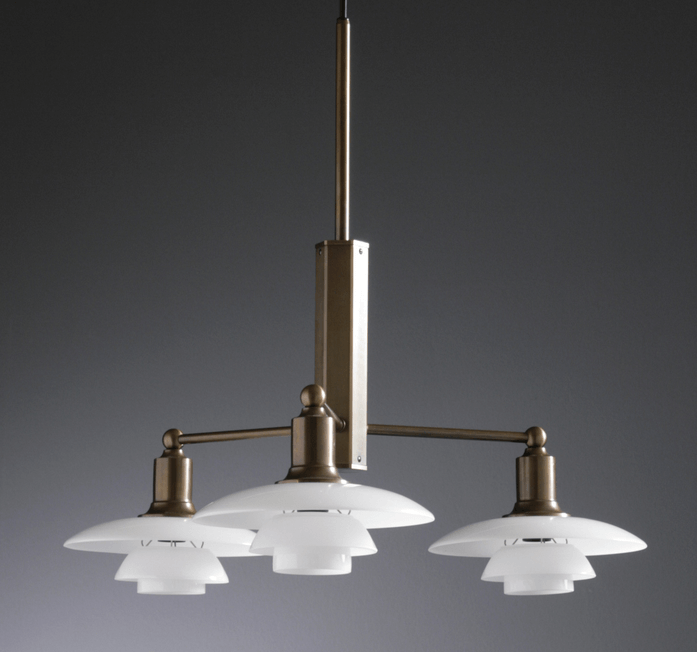 Beautiful and classic lamp designed by Poul Henningsen. The fine lamp is made of high gloss chromed white opal mouth blown glass, which gives a soft light. In addition, the lamp is designed based on the reflective multi-screen system that ensures non-glare lighting.
The screen design is based on a logarithmic spiral, where the light source focal point is located in the center of the coil. The opaque glass of the mouth-blown relay, which is glossy on the outside and sandblasted on the inside, emits a diffuse and soft light. For example, hang the classic lamp above the dining table or in the living room for both comfortable and practical light.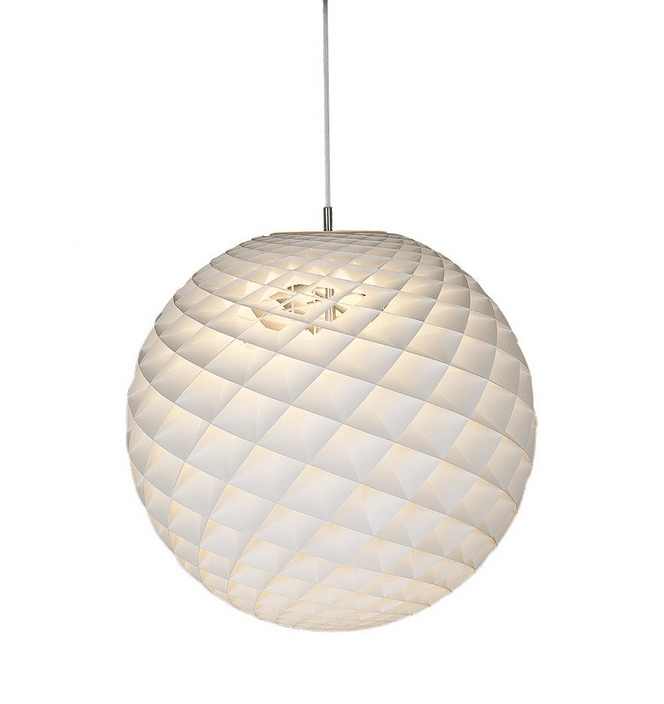 The beautiful lamp is designet by the Danish designer Øivind Slatto. Patera has the shape of a beautiful ball with a structure of small cells that spreads a fantastic light. The Patera pendant is designed carefully so that it captures the light in the most beautiful way. It also means that you can not see the light source from angles above 45 degrees.
In 1931 the 4-screen system was launched as you wanted to make a luminaire that could be mounted high up and thus an alternative to the often used chandeliers. The PH 4 screen lamp was designed to increase the amount of light transmitted horizontally from the lamp, thereby gaining greater lighting on walls and shelves than with the standard 3-screen lamp.
It was taken out of Louis Poulsen's standard range in the 40's, but was re-designed in 1979 by the two Danish architects Sophus Frandsen and Ebbe Christensen to the exhibition building Charlottenborg in Copenhagen, only in a larger size: PH 6½ / 6. To solve the endless glare problem, the two architects decided to add a small, inner blue screen to the design.

In addition, they also added a new surface: a matting white lacquered screen for more even and comfortable light – especially for use in museum and exhibition rooms, or just as general lighting in high-ceilinged rooms. In 1984, the smaller version PH 5 / 4½ was produced for Århus Musichouse.
snowball by poul henningsen
The fine Snowball lamp was originally designed by Poul Henningsen in 1958. The Snowball was displayed together with PH 5 at the Kunstindustrimuseet. The extraordinary lamp, however, did not receive much attention on this occasion, and it was therefore only relaunched and manufactured from 1983. The exclusive designer lamp is perfect in the dining room above the table or as a beautiful and nice lighting in an entrance hall or hall. The lamp has a luminaire housing in high gloss chrome plated aluminum, aluminum alloy screen and high gloss chrome-plated cast aluminum frame.
Poul Henningsens (1894-1967) lifelong cooperation with Louis Poulsen began in 1924. Poul Henningsen was one of the first to acknowledge the importance of shaping the light, and in 1958, as a follow-up to his 1926 groundbreaking triangular system, he designed PH 5 the pendant. Based on careful analysis of the light's reflection quality, PH 5 is characterized by the innovative non-slip form and symmetrical lighting. Poul Henningsen's pioneering work in lighting theory, in terms of structure, shadow, glare and color reproduction in conjunction with human need for light, is still practiced today in Louis Poulsen.Poul Henningsen (1894-1967). The most significant lighting designer for Louis Poulsen, and his ideas underlie the company's illumination philosophy. A cultural personality in addition to light spread beyond revue, satire and social criticism. The collaboration with Louis Poulsen continued the rest of PH's life.
Tivoli-lamp by poul henningsen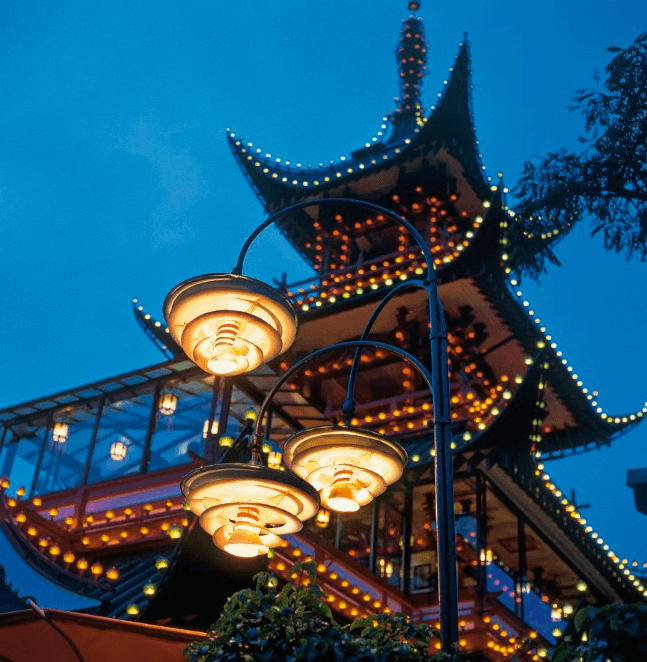 Tivoli-lamp is designed by Poul Henningsen in 1949 to Tivoli Copenhagen in limited numbers. Top of green painted metal with screen of spiral cut white lacquered metal. Transparent acrylic inner shades wrapped in red spiral. Produced by Louis Poulsen in 1949.
Flowerpot by verner panton
In 1968, Verner Panton designed the organic and beautiful Flowerpot. The flowerpot lamp is made as a ceiling lamp, wall lamp and table lamp. It consists of two round screens of lacquered metal. Flowerpot is today produced by & tradition and is a well-known icon throughout the world.
In 1969, Verner Panton designed the beautiful pendant lamp Globe for a furniture fair in Germany. The lamp is made of transparent acrylic with five reflectors in aluminum. Although Verner Panton designed the lamp in 1969, it was first put into production in 1976.
radiohus by Vilhelm Lauritzen
VL45 Pendant light is a beautiful and simple lamp that fits perfectly in the Nordic style.
VL38 is based on the original lamps used in "Radiohuset" in Copenhagen.
The lamp has the small detail that the pendant is made of brass. The screen is in mouth-blown glass and provides a beautiful and diffused light.
However, you can decide how powerful a light you want, as the lamp can use up to 100W

Ring Crown by Vilhelm Lauritzen
The beautiful and stylish VL Ring Crown was designed by Vilhelm Lauritzen in the 1940s. The beautiful chandelier is made of opal glass and brass. It is made in sizes 3, 5 and 7.

Doo-Wop is a pendant designed in the 1950s by Henning Klok for Louis Poulsen. Doo-Wop is an unpretentious and simple commute that is multi-use. It is harmonious in its design and very suitable for hanging alone, in row or cluster. Doo-Wop creates life in the living room, dining room, kitchen, home office, children's room, hallway, staircase, bedroom – in short, it contributes to both a breath of fresh air and good lighting in the home's room.